68 miles from Ellsworth, Vern and Letha entered town looking for Hwy. 14, where they turned South. Right away, Vern and Letha observed this large mine complex off to their left. On the right, along the highway, were air vent buildings. they continued on to Hutchinson. cont. below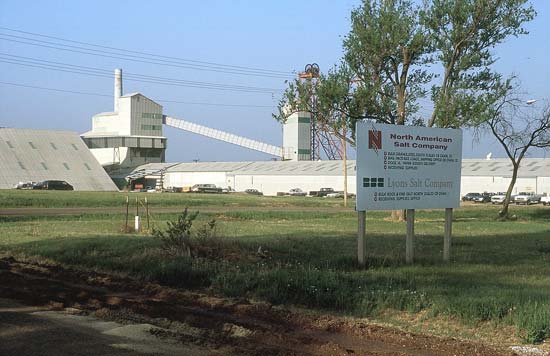 from the Kansas Geological Survey's collection

Back, 28 miles, Vern and Letha made the decision to by-pass Dodge City. This, they are really kicking their selfs, because a few hours late at the reunion would not have made a great big difference. Dodge City is the town so many movies and TV shows were about , like Wyatt Earp , and it is part of their, their parents, memories. It would have been 157 miles further and made them get to Hutchinson about 8:00 p.m. Some crew members were still not there at that time.

History:
Salt that cities spread on the streets comes from the Lyons Salt Co. -- A thousand feet underground -- where the temperature lingers just above 70 -- workers can spend all weekend on the job so Kansas City area motorists can travel around the next time roads get icy.

In a period when economists talk of a slump, what company actually turns away prospective customers? Lyons Salt must do so. It can produce enough salt for current customers, but not enough for new ones.

"We have people calling here every day wanting to buy salt," said Steve Kadel, president and general manager. "There's not much we can say. We sympathize with them."

In the mine rooms underground -- where lights create something like a perpetual twilight -- workers on a typical shift, eight to 12 men and women go underground, using explosives, heavy equipment and conveyor belts to churn out salt.

"We all live for this," said Peter Powell, a Kansas City businessman who bought the salt mine a decade ago. "Everyone is energized."

Salt lies underneath many parts of Kansas, the result of beds laid down in ancient oceans and then buried through geologic upheavals. Formed 230 million years ago as the inland sea that once covered Kansas evaporated.

The Kansas salt industry dates to the time of the cowboys. The mine in Lyons first operated in 1917. Two other underground mines in Kansas turn out salt for roads, one in Kanopolis and one in Hutchinson.

The U.S. Geological Survey says that Kansas produces more than 3 million tons of salt a year. Louisiana, Texas and New York produce more.

The statistics show no salt from Missouri. However, at the Boone's Lick State Historic Site northwest of Boonville, Mo., visitors can see how members of Daniel Boone's family produced salt nearly two centuries ago.

At the Lyons mine, mules once pulled the cargo.

Today, workers are guided by laser beams.

To get to their jobs, they descend 1,000 feet into the ground in one of two elevators.

They emerge in a large room. With ceilings as high as 16 feet, claustrophobia isn't a problem for most. The walls are a dirty white. Despite the hauling and loading of salt, the air isn't uncomfortable to breathe.

Vehicles take workers on a sometimes bumpy one-mile drive to the current mining area.

A machine cuts a horizontal slice through the back wall of a squarish space called a "room." Another machine drills holes in the wall. Explosives are placed in the holes and detonated.

The result: a pile of what looks like stones and boulders.

It is rock salt. Closer examination shows that it resembles the stuff folks put on their driveways. Pillars left behind support the mine.

None of the salt goes for human consumption. Other mines produce that, in a different way.

Workers at the Lyons mine use loading machines to gather the salt. Crushers do their job. A conveyor belt moves the salt to the elevators, where it travels to the surface in 5-ton batches.

The salt does not need to be processed.


---
HUTCHINSON -- Kansas already boasts such oddities as the world's largest ball of twine and the Greyhound Hall of Fame.

Add to that list a museum devoted to salt, the state's newest attraction. Plans for the museum, scheduled to open September 2004, were unveiled May 2 at separate events for the public and press. The project will take tourists deep below ground into salt reserves discovered in 1887.

Why spend millions on a museum about salt?

"Salt is an essential element in life," Smith said. "Plants and animals could not exist without it. This puts people at the source of a natural resource that is so much a part of our daily life. It will be an authentic environment. People can stand right up against one of the nation's most valuable resources." There is a lot of interest from people wanting to see the mine, which is about 600 feet beneath the surface.

Salt was discovered in Hutchinson in 1887 when Ben Blanchard struck a thick vein of rock salt while drilling for coal and gas. Blanchard didn't recognize the value of his find, but others did.
---

Kansas salt mine warehouse preserves nation's treasures

The original film negative for "The Wizard of Oz." A collection of New York newspapers dating to the assassination of President Lincoln. Secret U.S. government documents. Thousands of medical research biopsies encased in wax.

All these -- and so much more -- are buried 645 feet beneath the Kansas prairie in a vast underground salt mine warehouse teeming with treasures and oddities from across the nation.

The Hutchinson company has built a thriving business in the mined-out sections of the salt mine, where temperature and humidity stay at near ideal conditions for preserving paper and film brought here from around the world. The caverns, accessible only by a rumbling mine elevator, are safely beyond the reach of tornadoes, floods and earthquakes.

The temperature here stays at around 65 degrees Fahrenheit, and the humidity is between 40 and 45 percent year round.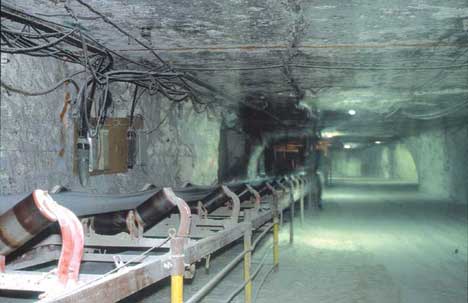 from the Kansas Geological Survey's collection................................................
The rough rock walls and ceilings are painted white to keep the salt dust down. The cement floors are level. There is a lunchroom with a refrigerator and microwave for workers. And bathrooms.
The storage vaults use only a few of the caverns left behind from salt mining activities. The company has available 800 acres of mined-out space, but so far has used just 12 acres of it.
Among the biggest customers are California movie companies, who find the Kansas salt mines ideal for storing original film negatives along with all the outtakes from their productions. A few titles: "Journey to the Center of the Earth," "Gone With The Wind," "Ben Hur," and "Star Wars." All the Mash television episodes are stored down here, as are old silent movies.
In two months alone, 20th Century Fox sent 22 truckloads of film here.
"It is so cheap to store down here -- a lot cheaper than California," he says.
SOURCE www.morningsun.net - Sunday, March 12, 2000