U.S. Turns to
'Bunker-Buster' Bombs
Associated Press October 10, 2001
WASHINGTON (AP) - The Pentagon is adding 5,000-pound "bunker-buster" bombs to the mix of weapons aimed at shaking up the Taliban and laying ground for commando raids in Afghanistan, officials said Wednesday.
A fourth day of aerial raids, including attacks on the outskirts of Kabul, the Afghan capital, moved the U.S.-led campaign closer to the expected start of ground operations against the al-Qaida terrorist network and the Taliban government.
Publicly, the Pentagon offered no information about Wednesday's attacks, although officials speaking on condition of anonymity said "leadership targets," such as command-and-control facilities in underground bunkers near Kandahar were to be hit with 5,000-pound laser-guided bombs. Taliban's headquarters are in that southern Afghanistan city.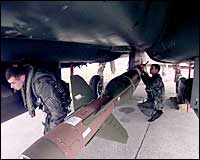 ..

An F-15E Strike Eagle pilot (right) and a weapon system officer assigned to the 494th Fighter Squadron, Royal Air Force Lakenheath, England, inspect a GBU-28 laser guided bomb. The GBU-28 is a 4000-pound bomb designed to penetrate hardened targets. (U.S. Air Force photo by Senior Airman Jeffrey Allen)